RPi online seminar: Young children's ScratchJr project scores and processes across a 12-week coding curriculum
June 6 @ 5:00 pm

-

6:30 pm
Young children's ScratchJr project scores and processes across a 12-week coding curriculum (6 June 2023)
Apittha Unahalekhaka (Tufts University)
This seminar will present two ScratchJr studies, which were part of the Coding as Another Language (CAL) project. The first study is the development and testing of the ScratchJr Project Rubric, which has been used to evaluate children's purposeful creation on the coding and project design aspects of ScratchJr. The study showed that although children (ages 6–8) were able to create more complex projects over time, there were some coding concepts that children uncommonly used. The second study evaluated common processes that young children followed when creating their ScratchJr projects. The implications of this study are essential to inform how teachers and parents may support young children's creative and exploratory processes when learning with tablet-based coding applications.
In small groups, seminar participants will use a rubric to evaluate their ScratchJr projects (or provided ScratchJr projects) and discuss the key areas that can be enhanced. (Bring a tablet with ScratchJr downloaded if you have one!) Furthermore, you will brainstorm the teaching strategies that can support different creation processes children may use to create coding projects.
Speaker: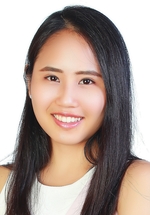 Apittha (Aim) Unahalekhaka, Ed.M., is a final-year doctoral candidate at Tufts University's Eliot-Pearson Department of Child Study and Human Development and a graduate researcher at the DevTech Research Group. Her current research focuses on using data science for early childhood education and learning analytics applications in classroom settings, particularly how children's engagement patterns with ScratchJr relate to their learning experiences. Her interests include socio-emotional learning, constructionism, adaptive instructional systems, and machine learning. She received her B.S. at the University of Toronto with a double major in Neuroscience and Economics and her Ed.M. at Harvard Graduate School of Education.